Are you up for the first ever National BRRRR-tual Polar Bear Plunge for the climate?
Plunge from home to "Keep Winter Cold"
**Scroll down for details on the chance to win an electric bike!**
On February 13th, 2021, hundreds of climate activists across the country will come together to take the plunge for our climate. We'll send a clear message to our leaders that climate change must be a priority in 2021. Will you join us by taking the plunge from home in February? Be a part of the longest running Polar Bear Plunge for the climate AND the first national Polar Bear Plunge for the climate!

How? We'll tell you more below, but you have options like a "climate bucket challenge" or picking a pond or creek near your house.




2021: THE MOST IMPORTANT YEAR FOR OUR CLIMATE
In 2020 we have witnessed more than 4 million acres burn across California and a record breaking hurricane season. Unless our leaders follow the science to enact strong climate policy and hold polluters accountable, decades from now we may recall 2020 as a "good" year. We cannot let that happen. That's why we're asking you to #TakeThePlunge with us for the climate.
WHY TAKE THE PLUNGE
By taking the plunge, you'll be raising vital funds for the work of the Chesapeake Climate Action Network (CCAN) to pass climate policies in our region and nationwide. You will also be sending a clear message to our leaders on Capitol Hill to not wait any longer on climate, and to hold climate polluters accountable. Now is not the time for them to get cold feet, now is the time for them to keep their promises on climate.
You can plunge with us from wherever you are. You'll be joining Bill McKibben, Rev. Lennox Yearwood, and hundreds of other climate activists. So, grab your roommates, your family, your dog (consent must be given), or your community group to sign up.
HOW TO TAKE THE PLUNGE
This year, for the first time ever, the plunge will be VIRTUAL and NATIONAL! Supporters across the country will have the opportunity to choose how they will be taking the plunge with us. Some ideas to consider:
jumping into an icy cold bath or kiddie pool

dumping a bucket of ice water over yourself

going to a nearby body of water like a local creek or pond (if you choose this option learn more details at "ABOUT THE PLUNGE").
The most important thing is that you and icy water come together for a brief moment on February 13th. Just like a charity fun run, plunge participants take pledges from their friends and family to support CCAN's vital climate work.
ELECTRIC BIKE GIVEAWAY!
A generous donor thought a little extra incentive might help. Incentive in the form of a brand new electric bike worth up to $3,500! How do you qualify for this giveaway? You have three opportunities:
Sign up for the plunge AND recieve your first donation by January 12th = 1 entry

Raise $350 by February 12th = 2 entries

Raise $1,000 by February 12th = 3 entries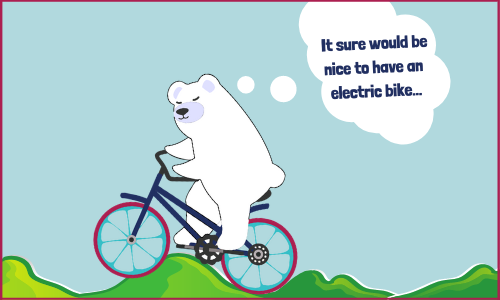 Find more details about the electric bike giveaway on our Plunge Perks page.